Klepper Story

It all began in 1905 with a student of architectur by the name of Heurich, who constructed a boat for descending the river Isar in Munich. The skin kayak made of bamboo and sailing canvas was easy to transport when taken apart, and less prone to breaking apart than wooden boats, and Heurich could travel 40 km from Bad Tolz to Munich on the rushing river during high water.
Immediately understanding the potential of this new type of boat, Klepper, a tailor from the town of Rosenheim, bought Heurich's the patent, and in 1907 started production his clothing and sports goods factory setting off a story of daring adventures and widespread leisurely paddling.
In 1909, only 2 years after the first production folding kayak had been launched, C.E.Layton crossed the channel between Britain and france in a Kleppe single seater [Dolphin].
From 1922 to 1926, Karl Schott set off for plural voyages planned to cover 3000 km, 5000 km, 10,000 km and 16,000 km, all originating in Germany or Northern Italy, and which which brought him as far until Basra in Iraq.
In 1928, Franz Romer wrote history by crossing the Atlantic Ocean in a 6.4 m long and 1000 cm wide special Klepper construction. This has been the first known crossing of an ocean in a kayak. The distance from the Canary Islands to Puerto Rico took Romer 58 days. Tragically, Captain Romer missed a hurricane warning by one hour when he left Puerto Rico in his Kayak for New York, and was not seen ever after.
The Olympic games of 1936 in Berlin featured 2 folding kayak disciplines, in which Klepper kayaks took all six medals.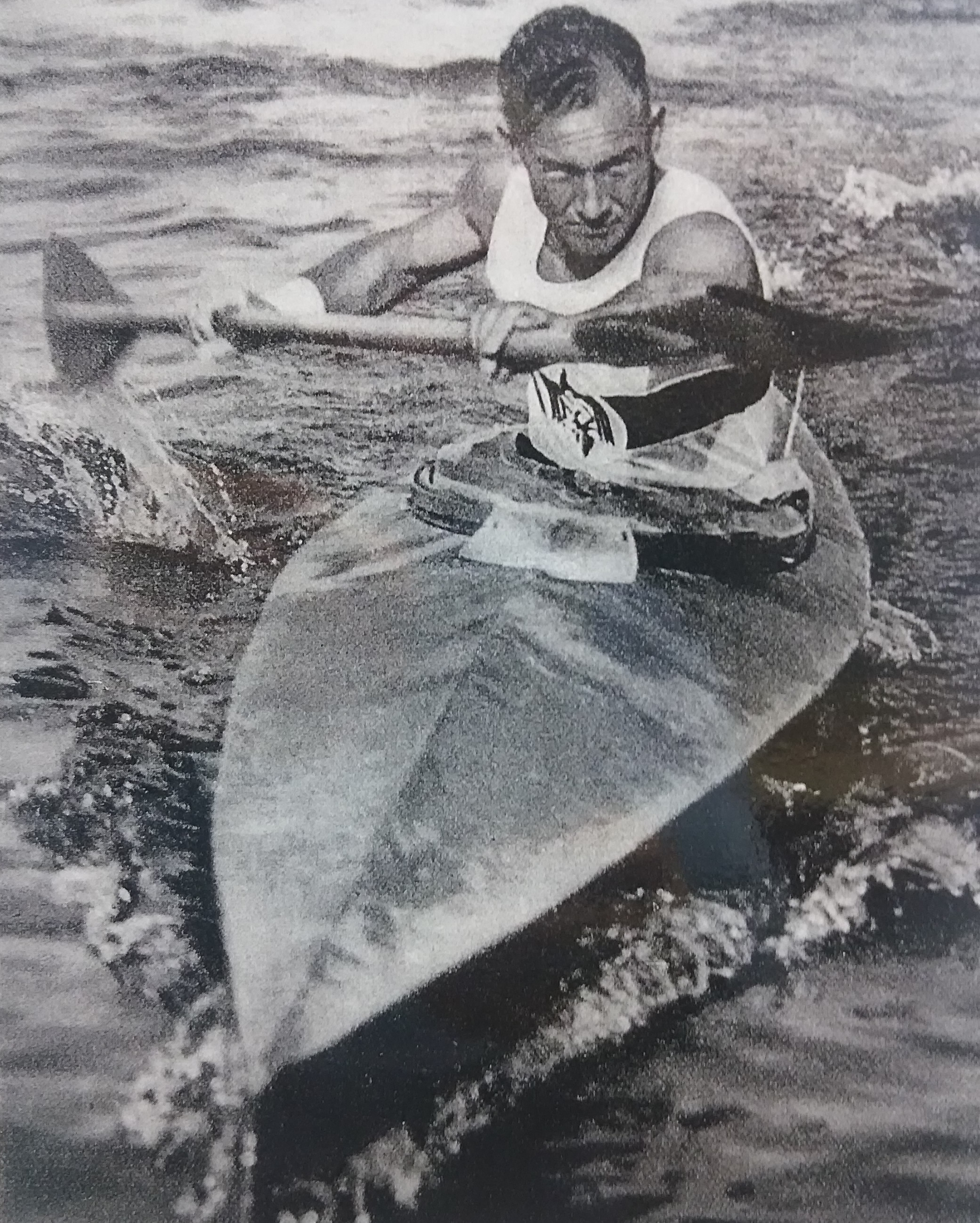 Since the release of the [T5 Series] in 1935, Klepper folding kayaks have found their basic hull and deck shapes.
1936 saw the release of the [T6 Series] and [Super T6 Series], the most lightweight folding kayaks with wooden frame constructed up to date. The frame of the 550 cm long sports double seater measured only 18 kg including seats and backrests ! (By comparison, the current Aerius II 545 frame weights appr. 25 kg). Including the skin, the 4.5 m long sports single seater measured 20 kg, the 5.5 m long sports doubel seater 26.7 kg. This weight reduction had been possible by very elaborate carpentry work with different wood thicknesses, double T-beams at the edges etc.
1950 marked the release of the [Aerius Series], the main Klepper kayak up to today. The Aerius introduced Klepper's Snap-On connection system and Air Sponsons as new features.
In 1956 Dr. Hannes Lindermann used a production Aerius II 520 for successfully crossing the Atlantic Ocean. Lindemann's epic voyage took 72 days, and remains the Ocean crossing with the smallest boat ever undertaken by man. Lindemann survied two storms, one of them outside of his capsized boat for nine hours, in great part thanks to psychological preparation, or fitness.
Cape Horn was circumnavigated in Klepper kayaks three times, with Charles Porter paddling in 1979, Fuchs and Neuber paddling in winter of 1984, and Rice sailing and paddling in 1989.
1992 had Eric Stiller and Tony Brown semicircumnavigate Australia in a double seater Aerius 520. Their experience is published under the title "keep Australia to the left".
Other remarkable expeditions inculde:
1929 Descned of Colorado River and Grand Canyon by Carl Borro Schwerla
1938 Danube escent by Lothar-Gunther Buchheim
1954 First descent of Upper Nile by Herbert Rittlinger
1955 Amazon Expedition by Hans Ertl
1955 Crossing the Meditteranean from Marseille to Tunis by W. Zimmermann
1970 Singapore-Australia by John Dowd
1978 Greenland East Coast Expedition by K. Gallei
1983 Maranon (Amazonas) Expedition by G. Kimmich and E. Eckstein
1985 North Pole Expedition with folding kayak by Arved Fuchs
1990 South Pacific Voyage by Paul Theroux
1991 Pt. Barrow / Arctic Ocean by Gail Ferris
1996 Magellan Strait passage by Michael Vogeley and Gerhard Miosga
2001 Amazon 5,000 km descent by Brummer and Glockner
2005 Semicircumnavigation of Europe (12,000 km) by Franziska and Rainer Ulm